CD reviews
"Diese stupend, ja virtuos musizierte und tontechnisch überwältigend geglückte Produktion bietet dem aufgeschlossenen Hörer nicht nur ein klangliches Erlebnis, nicht nur ein Kompendium gegenwärtiger Komponisten an. Sie beweist zudem, wie aufregend und hörbar zeitgenössische Musik ausfallen kann."

Hifi & Records in der Oktoberausgabe 2018 über das Album "Duos for Violin & Double Bass"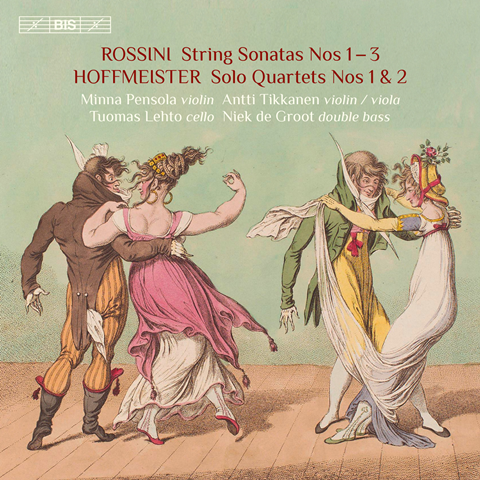 The Strad Issue: March 2018  
Description: Twelve-year-old Rossini's sonatas get a welcome outing  
Musicians: Minna Pensola (violin), Antti Tikkanen (violin & viola), Tuomas Lehto (cello), Niek de Groot (double bass)  
Works: ROSSINI String Sonatas: no. 1 in G major, no.2 in A major, no.3 in C major. HOFFMEISTER Solo Quartets: no.1 in D major, no.2 in D major  
Catalogue Number: BIS 2317 (SACD)
These five works date from around the early years of the 19th century and combine attractive melodies, varied instrumental textures and challenging bravura writing. Violinist Minna Pensola has most of the fun and games in the first three of Rossini's youthful string sonatas, played here in their original instrumentation. She characterises each movement with innate musicality and combines clarity and brilliance in the testing passagework of the cheerful, often witty fast movements with a glowing expressive quality and unforced lyricism elsewhere, especially in the central andantes. Her colleagues support with poise and polish; and when their moments of glory arrive, they rise eloquently to the occasion.
Bassist Niek de Groot is the star of the show in the Hoffmeister pieces, having himself prepared the performing edition for this world premiere recording of no.1. His accounts of some of Hoffmeister's dizzying writing for his instrument, while not without the odd rough edge in the outer movements of no.1, show plenty of spirit and dexterity, substantial accuracy and expressive lyricism in no.2, the chirpy final rondo giving him the opportunity to shine alone in a quasi-cadenza passage.
Pensola occasionally shares the solo spotlight, notably in the expressive slow movements. The recording is natural, immediate and well balanced.
ROBIN STOWELL
---